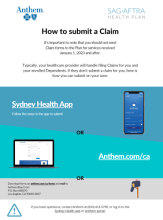 It's important to note that you should not send Claim forms to the Plan for services received January 1, 2023 and after.
Typically, your healthcare provider will handle filing Claims for you and your enrolled Dependents. If they don't submit a claim for you, here is how to file.
If you have questions, contact Anthem at (833) 414-5790, or log in to the Sydney Health app or Anthem portal.