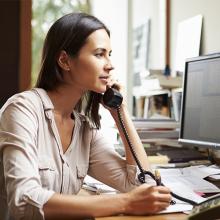 The SAG-Producers Pension Plan has launched a new online resource to help you manage your benefits. Using your Benefits Manager, you can:
• Create a new pension estimate
• View an existing estimate
• Access your annual pension statements
• View your reported SAG earnings
• Access the current 1099R or 1042s statement
• View the form 5500 (Schedule MB and Annual Report of Employee Benefit Plan)
• Access the Plan's annual funding notice
• View your pension check history
• Sign up for Plan emails
If you don't have an account, you can create one now. If you are also a SAG-AFTRA Health Plan participant, your Benefits Manager account will provide access to your health information as well.
Need assistance? Call us at (800) 777-4013.