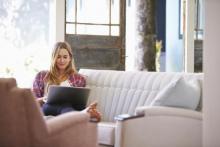 LiveHealth Online*: The doctor will see you now.
As a convenient telemedicine alternative, LiveHealth Online is now a covered benefit and a doctor's care is at your fingertips.
This benefit includes:
A face-to-face doctor's visit on your phone, tablet or desktop
Short term prescriptions if needed
As an in-network benefit beginning next month your copay will be only $25 and your existing benefits will apply. LiveHealth Online is available 24 hours a day, seven days a week. In less than five minutes you'll be face to face with your doctor.
Be ready. Register now.
1. Visit livehealthonline.com or download the free LiveHealth Online app to your mobile device.
2. Create your account by answering a few questions. When selecting the health plan, choose Anthem Blue Cross (CA) regardless of where you live. Your account securely stores your personal and health information.
3. Choose a doctor to visit or request first available and enter into a virtual waiting room. The average virtual wait time is less than five minutes.
Now you are set! You can be confident knowing you can easily connect with doctors when you need to consult about certain conditions, share your health history, and schedule online visits at times that fit your schedule.
* LiveHealth Online's psychology benefit is not included. Beacon Health Options provides behavioral health benefits for Plan participants. Participants enrolled in Medicare should note that LiveHealth is not a covered benefit under Medicare, so claims will be processed as primary by the Plan. LiveHealth should not be used if acute or emergency care is needed. Internet, email or telephonic consultations with any other provider continue to be excluded benefits under the Plan per page 90 of the Summary Plan Description.