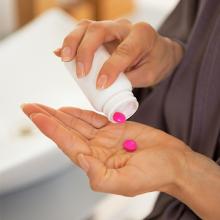 During the process of merging the SAG and AFTRA Health Plans, the Trustees of both Plans were faced with the challenge of preserving the highest level of coverage for the greatest number of people at the lowest possible cost. In an attempt to achieve those seemingly contradictory goals, the Trustees and staffs of the Plans made an effort to incorporate the best practices from each. Decisions were made with an eye toward high quality, sustainable benefits that preserve the best possible coverage for the greatest number of participants.
Beginning May 15, 2017, Plan participants can fill long-term prescriptions at one of more than 8,000 participating pharmacies nationwide, including Walgreens, Duane Reade and Happy Harry's.
Given skyrocketing prescription drug costs across the health care industry, one approach was to adopt the Express Scripts home-delivery service for any prescription medication extending beyond two refills. For years, both the SAG and AFTRA Plans have used Express Scripts to administer participant prescription drug benefits. However, while the AFTRA Health Plan—and many other entertainment industry plans—had long-ago adopted the requirement to use home-delivery, the SAG-Producers Health Plan had not. 
The Home-Delivery Difference
The home-delivery service is much more cost-effective for the Plan and also has benefits for participants: 
Lower copays due to fewer refills. A participant using the service for a year will have four copays per year, rather than 12. Retail prescriptions have always been limited to a maximum 30-day supply, whereas home-delivery prescriptions can be filled every 90 days. That's one-third the number of copays. 
Convenience of refill flexibility. You can set up any or all of your prescriptions to be automatically sent to you before you need them by using Express Scripts' Auto Refill option. Express Scripts will also contact your doctor to reorder your medications before your prescription runs out.
While using home-delivery may be new for some, the Trustees are confident that after you've tried the service, you will enjoy the convenience and savings of  the service. 
New to Using Home-Delivery? 
Setting up your service is easy. 
Go to www.express-scripts.com. Press the "Register Now" button and set up your account. All you need is your social security number. You can also download the Express Scripts mobile app for added convenience.
Ask your doctor(s) to send all long-term prescriptions to Express Scripts. This can be done by fax or, in many cases, doctors can directly order prescriptions for you online.
If you take a medication regularly, ask your doctor to write your prescription for a 90-day supply, with three refills. That way you can have a full year's supply of medications on record with Express Scripts that can be filled as needed.
If you prefer not to set up your account online, you can call Express Scripts' customer service at (800) 903-4728.  
Talk to a pharmacist about your prescriptions anytime.
If at any point you have questions about your medications, Express Scripts pharmacists are just a phone call away 24 hours a day, seven days a week at (800) 903-4728.