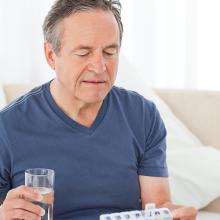 The SAG-AFTRA Health Plan, which will use Express Scripts as its prescription drug provider (and Accredo for specialty medications), will require participants and dependents to use home delivery service for their long-term or "maintenance" prescriptions. Examples of long-term medications include prescriptions to manage high blood pressure or cholesterol.
Beginning May 15, 2017, Plan participants can fill long-term prescriptions at one of more than 8,000 participating pharmacies nationwide, including Walgreens, Duane Reade and Happy Harry's.
How this will work: Each prescription for a long-term medication may be filled no more than twice at a retail pharmacy, for a maximum of a 30-day supply with each fill. If you continue to purchase a maintenance prescription at a retail pharmacy after the first two 30-day fills instead of using the home delivery pharmacy, you will pay the entire cost of the medication.
Special transition rule: If you are currently covered under the SAG Plan and are taking a long-term medication as of December 31, 2016, that prescription will be subject to a special transition rule. You can continue to purchase an existing long-term prescription from a retail pharmacy through June 30,2017. Beginning July 1, 2017, you must obtain the prescription through the home delivery pharmacy for it to be covered by the SAGA-FTRA Health Plan. This special transition rule does not apply to any new maintenance medications that are prescribed on or after January 1, 2017.
Ordering Your Home Delivery Prescriptions: The first time you are prescribed a new maintenance medication, ask your doctor for two prescriptions: the first for up to a 30-day supply to be filled at a retail pharmacy, and the second for up to a 90-day supply to be filled through the home delivery pharmacy. You or your doctor may submit prescriptions as described below.
Fax from Your Doctor: Give your ID number to your doctor and have your doctor call (888) EASYRX1 ((888) 327-9791) to obtain fax instructions.
Online: Visit www.express-scripts.com and follow the instructions to register for Express Scripts Pharmacy's home delivery services. Once you have registered, click "Manage prescriptions" and follow the instructions. Express Scripts will contact your doctor to transfer your current prescriptions to the home delivery pharmacy.
By Mail: Request an order form from the Plan by calling (800) 777-4013 or from Express Scripts by calling (800) 903-4728. Mail your prescription and the required copay along with the completed order form in the envelope: Express Scripts Home Delivery Service P.O. Box 747000 Cincinnati, OH 45274-7000
Additional information about your prescription benefits is available in the Summary Plan Description.