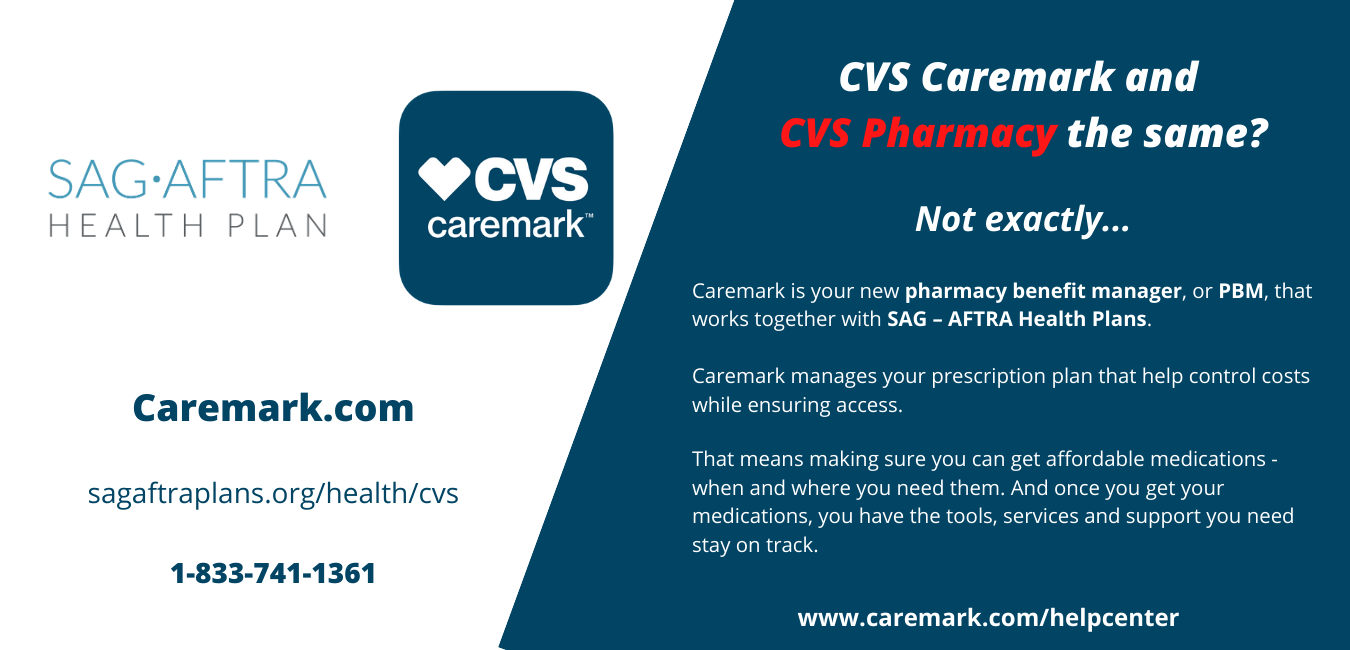 Confused with the new pharmacy benefit upgrades for 2021?
That's ok. Let's try and distinguish the difference between and why CVS Caremark (Pharmacy Benefit Manager) is your primary source of information versus CVS Pharmacy retail
---
Your Pharmacy Benefit Manager (PBM) 
Caremark is your new pharmacy benefit manager, or PBM, that works with SAG – AFTRA Health Plans.
Caremark manages your prescription plans that help control costs while ensuring access to everything that comes with a pharmacy benefits manager.
Feel better talking to someone? Call 1-833-741-1361!
CVS Caremark provides a retail pharmacy locator you can use to search for local network pharmacies based on any ZIP code, city and state, or county and state. Mobile devices leverage the "current location" feature for quick results. The results displayed show all pharmacies in your plan network. Results can be filtered by services such as 24-hour and drive-thru locations, pharmacy name, prescription delivery, durable medical equipment, open seven days a week, blood pressure screenings, flu shots, language spoken, and pharmacy type. 
Other features include:
Promotion of the preferred pharmacies where you can take advantage of savings opportunities;
Filters and icons in the search results that indicate whether the pharmacy is preferred, participates in a vaccine network, and participating in the Maintenance Choice offering;
Advanced search filters so you can search for pharmacies that compound medications, offer on-site medical clinics, and are open seven days a week;
Search results provide maps, driving directions, and detailed contact information, including phone and fax numbers. Additionally, the pharmacy locator tool on the CVS Caremark mobile app leverages the geolocation services built in to most mobile devices to quickly display nearby pharmacies.
Pharmacy directories are updated weekly and are reflected in real time.
The most useful tool for understanding covered drugs, coverage requirements, therapeutic alternatives and pricing is the Check Drug Cost & Coverage tool. This tool provides real-time information specific to your plan design, coverage, copay, drug formulary, and other plan parameters. You can search and compare drug costs at multiple pharmacies, including mail order:
Calculates out-of-pocket cost based on plan design and current benefit coverage
Notifies of prior authorization requirements or if a medication is not covered 
Presents 30-/90-day fill options and generic equivalents when available
Returns the most commonly prescribed generic alternative, if available, as well as up to five formulary alternatives and your respective prices to give the information needed to make the best decisions
The pharmacy benefits ID Card is visible on the Caremark website, mobile web and the Caremark App. 
You can view and print the ID cards from the desktop site.  For the mobile app experience you can simply show the card information on screen at the pharmacy or if you are using an iPhone it can be loaded into the Apple Wallet.
You can refill prescriptions without having to register or login to your account. Simply enter your birth date and the mail order prescription number, or use the camera on a mobile device to scan the prescription label. Any additional refills available are displayed and you can include those prescriptions in the refill request. 
On the website, the user must manually enter the DOB and Rx number. On the mobile app, the user can use the device's camera to scan the prescription label for the Rx information. Both are available prior to signing in. 
The drug interaction checker allows you to enter in two or more medications to determine if there are drug interactions.  The tool will show major and minor interactions in the results.  It's important for you to consult with your doctor for all medications and interactions but this tool can help the conversation.  
The Pill Identifier allows you to look at the number and letter combinations on a pill, optionally select a shape and color and determine the medication and strength.  
---

Saving Money:  
Save with ExtraCare and get up to 20% off certain products.  
Get app-only deals and access to all of your offers and rewards when linked with your ExtraCare card.
Turn on notifications to get photo and prescription updates along with new deals.
Plan out any shopping and savings with the weekly ad for your local store. 
Getting Prescriptions:
Pay for your medications and have them delivered.
Prepay for your prescriptions then show the barcode for more private pickups.
Enjoy 1-tap Rx checkouts after the first time you prepay for your prescription.
Order refills, check their status, and see your prescription history.
Check drug interactions and information. 
Caring for your health:
Video chat with a health care provider 24/7. 
Find a nearby MinuteClinic for general care and clinical services.
View wait times and schedule a clinic visit.
Check available health care services and insurance coverages.
Printing photos:
Order prints and more from your device and online albums for same-day pickup.