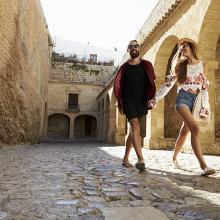 Will you be hitting the road this summer? It is important to make sure you know how to use your coverage when you are away from home.
Travel Within the United States
Whether you will be traveling to the next town over or the other side of the country, you use your health coverage the same as you would at home wherever you roam in the United States. If you travel to an area in which the two nearest BlueCard PPO providers of any type are more than 25 miles away, you are considered to be in an out-of-network area and you will receive the Plan's in-network benefits for services, even if you visit out-of-network providers. However, if you travel to an in-network area, you must use in-network providers in order to obtain in-network benefits coverage. You can check for in-network doctors, urgent care facilities, dentists, mental health providers, pharmacies and more via our provider databases. If you know where you will be traveling, we recommend researching things like in-network urgent care facilities and pharmacies before leaving town. Knowing where to go if you or someone in your family becomes ill can make a potentially stressful situation a lot easier.
International Travel
Claims incurred in foreign countries are covered by the Plan if they are for services normally included in your benefits. The provider may not file the claim for you. If you have to pay for services upfront, submit itemized bills to the Plan in English, if possible, to avoid delays. Dental claims should be sent to Delta Dental. Pharmacy claims should be sent to Express Scripts.
If you know where you will be traveling or will be staying in a certain area for an extended amount of time, call (800) 810-BLUE to find out which providers are in the BlueCard network and show the provider your health care ID Card at the time of service. Receiving care from an in-network provider may simplify the paperwork and reimbursement for the care you receive.
Travel Do's and Don'ts
Don't forget to pack all of your important medications, medical devices and cures for headaches, stomach woes, allergies and colds. 
Don't leave home without your doctor's contact information, your health care ID cards and any important medical information should you need to obtain care while you travel.
Do talk to your doctor before your trip to make sure you are up-to-date on all of your immunizations. Be sure to ask about boosters for immunizations you may have gotten as a child.
Do check the Centers for Disease Control's website for travel advisories on potential illness and diseases in the country to which you will be traveling.
Do drink a lot of water and avoid consuming coffee, alcohol and salty snacks during flights so that you do not become dehydrated. 
Do be sure to wash your hands or use hand sanitizer often while traveling to help cut down on the risk of becoming sick. You can further decrease your risks of becoming ill by touching your eyes, mouth and nose as little as possible. 
Helpful links for travelers:
•    Centers for Disease Control Travel and Warning Information
•    UCLA's Tips for Staying Healthy While Traveling  
•    Plan Provider Databases